The newly upgraded Ankle Medical Holster is a medical kit carrier designed to be worn around the user's ankle. Lightweight and comfortable, it can be worn as part of your everyday carry whether you are civilian, law enforcement, or military. Upgrades include rounded corners, a 2 x 3 PALS panel, red pull tab, padding for comfort, and an improved fit. Designed to fit a CAT or SOF Tourniquet, 4" Israeli Emergency Bandage, and 2 pairs of Gloves. It can also accommodate a SWAT-T, needle decompression kit or other items. A stocked version is available as well.
Features
Elastic storage bands and pouches

Customizable to user preferences

Lightweight and comfortable

Main Pouch has a red tab for instant identification

Three pockets plus a 2 x 3 PALS ladder
Dimensions (open): 5.25" H x 19" W (open)
Dimensions: 9" - 16" (intended fit circumference)
Weight: 4 oz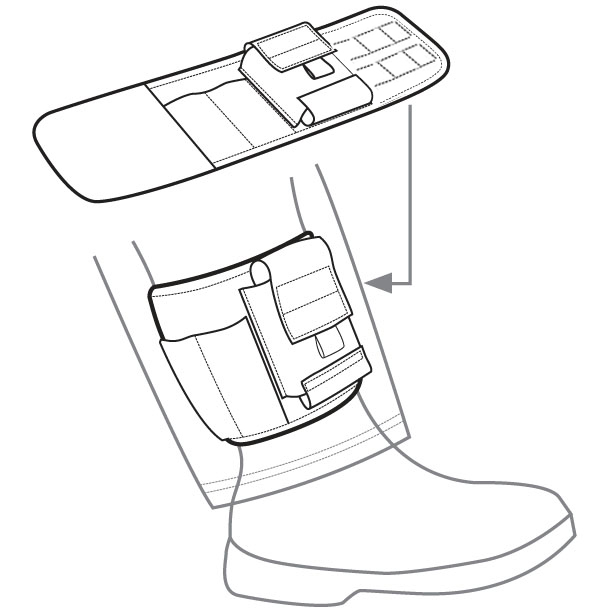 Save
Save
After my EDC experience, this is a gift to a family LEO

This is a great item! Well designed, carries immediate TECC needs. It's NOT bulky, it IS comfortable for EDC, and it's discreet. My son-in-law is a LEO and was wanting something other than a larger kit to add to an already crowded duty belt or left in the car. This item is PERFECT!

I really like this kit. It is comfortable to wear and it really disappears under a pant leg. I was able to duplicate the contents of the Dark Angel Medical lite D.A.R.K. into this rig. 1 SOFT-W TQ, 1 H&H Mini Compression Bandage, QuickClot Combat Gauze, Hyfin Vent Compact chest seals, 4" mini trauma shears, 2 pairs of rolled nitrile gloves, and a sharpie. If you separate the Hyfiin chest seals and wrap them around the QC gauze and bandage, you can fit that as a package into the big pouch. TQ goes in one smaller pouch and gloves in the other. Shears and sharpie in the molle webbing.

Great overall medical kit!

This kit allows me to carry a full medical kit on duty without the bulk of a full drop leg med pouch. I carry the following on the ankle rig... (1) CAT TQ (1) Quik Clot Combat Gauze LE (1) 4in. Israeli Bandage (1) CPR Face Shield (1) Pair of Hyfin Vent Chest Seals (1) No.28 NPA w/ lube (1) Full size Trauma Shears (1) Sharpie Overall great little rig to run!

I just got mine so not much use yet. But I like it . I wear scrubs at work and this works great with my scrubs. However I only have a 4" israeli bandage, 2 pairs of nitrile gloves and a SWAT-T in mine. How are you guys getting so much in yours and getting your pants leg down?!

Been carrying this holster for almost a year...

...and it has been an outstanding solution. My agency issues excellent medical kits but they're about the size of a youth football, not practical to remove from the car on every call. That was a problem because where I work we could be on the 20th floor of an apt. building or 500 yards from our vehicle in a park area. Too far to go in an emergency. I had no more room on my belt or my outer carrier. This rig allows me to carry an extra tourniquet, Celox, flat packed gauze, 2 compact chest seals, and a 4" pressure bandage. No, not a complete kit. But WAY better than nothing. Best part is I throw it on right under my jeans when I'm not working. I've been carrying it almost a year and it's never been spotted by family or friends (gotta hide some of the crazy) and it's held up very well. Highly recommended.

This ankle wrap is the bee's knees. Carrying medical gear is an absolute must, and this kit allows me to carry a full blow out kit, which includes: - 1 SOF-T Wide - 1 H&H mini compression bandage - 1 Quick Clot Combat Gauze - 1 NPA - 1 beacon pocket chest seal - 1 chest decompression needle See that? That's the bee's knees right there. I've tried other ankle ankle medical kits, but this is the only one I know of that allows the user to carry a FULL medical kit... Wait for it... COMFORTABLY! Of course, I can feel the kit hanging on my ankle, but it is secure, and it does not irritate my skin. As long as you wear it under a pair of decently fitted pants, you should be able to conceal a full kit too. I wear simple slim straight denim (Levi's 514's and American Eagle) and GAP dress slacks size 30" x 32". Try it out! If you want to carry a full blow out kit, and aren't bothered by ankle carry rigs, this kit should work for you.

Excellent ankle medical holster

The Rescue Essentials ankle medical holster is a near perfect solution to the need to carry additional items of any kind. The workmanship and materials are both outstanding.

I use this product for other things than medical purposes. It works great for putting objects that I used to have to carry in my pocket. In no time at all you don't even know it's there. Quality of material and workmanship is absolutely the best.