The newly upgraded Ankle Medical Holster is a medical kit carrier designed to be worn around the user's ankle. Lightweight and comfortable, it can be worn as part of your everyday carry whether you are civilian, law enforcement, or military. Upgrades include rounded corners, a 2 x 3 PALS panel, red pull tab, padding for comfort, and an improved fit. Designed to fit a CAT or SOFTT-W Gen 3 Tourniquet, 4" Israeli Emergency Bandage, and 2 pairs of Gloves. It can also accommodate a SWAT-T, needle decompression kit or other items. A stocked version is available as well.
Features
Elastic storage bands and pouches

Customizable to user preferences

Lightweight and comfortable

Main Pouch has a red tab for instant identification

Three pockets plus a 2 x 3 PALS ladder
Dimensions (open): 5.25" H x 19" W (open)
Dimensions: 9" - 16" (intended fit circumference)
Weight: 4 oz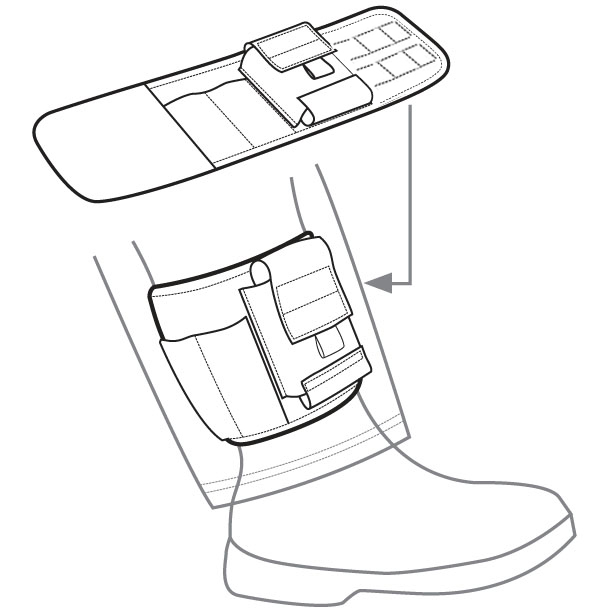 Save
Save
Have concealed first aid kit when you may need it.

Since thigh rigs or other visible rigs aren't really en vogue, this is a decent option if you like to wear boots. Can hold few bandages, tourniquet, triangular bandage, CPR Face shield. New mole straps for attaching a CAT or something as well.

Works like it should- very comfortable

I am happy with this product. It is very comfortable and holds a tourniquet and quick clot bandage. Within half and hour of putting it on I forgot I was wearing it.

A discreet way to have piece of mind

I have been using this piece of kit for over 3 weeks now. Working in a plain clothes capacity, this is a carrier that I have been needing for quite some time! I was able to load up this carrier with the following: SOFTT-W, Needle Decomp, chest seals, hemostatic agent, nasal tube, gloves, and a small set of medical shears attached to the MOLLE. It does take some getting used to and eventually you will not feel it there. The velcro wrap allows it to be secured firmly. The two elastic storage pocketscan hold the tourniquet nice and snug, however, it doesn't hold a single stack magazine too well. Overall, I think this is an essential piece of kit for plain clothes operations of CHL holders. Lastly, for the price, you have no excuses!!! Great job RESCUE ESSENTIALS!!!