**This Product Cannot Be Shipped Internationally
NSN# 6510-01-243-5897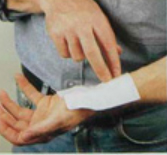 This small, square-sized dressing is designed to fit the palm of the hand - a very commonly burned area, or the back of the hand near the knuckles. It helps stop the burning process, cools the burn, provides pain relief, and covers the burned area to prevent contamination. Gel-soaked, medical-grade non-woven material. Sterile. Foil packed. Shelf Life: 5 years

NEW FORMULA
This Water-Jel® product contains a new and improved gel formula in response to feedback from various emergency departments. The new gel is clear (instead of opaque) which allows emergency department staff to see what is happening to the burn site without removing the gel. It is no longer scented with tea tree oil, this is for ease of use in the emergency room as well as being less detectable in military applications. The change in formula has not affected the consistency of the gel, it won't stick to the surface of a burn injury, which means it does not have to be aggressively removed. Hyaluronic acid and Mikrokill have been added to modulate inflammatory response and to to help protect the wound from infection, respectively.
Covers, cools, and relieves pain

Helps stop burn progression

Pre-saturated, new crystal clear gel

Fragrance-free

With Hyaluronic Acid and Mikrokill
Dimensions: 4" W x 6½" H x ½" D (packaged)
Weight: 2.2 oz
Nothing but the best from Rescue Essentials! There is never any doubt as to the quality and service and price! I buy all my Stomp II items and my First Aid items from Rescue Essentials! They have everything you need to stock your kits. The delivery is fast and complete. The prices are excellent and the quality is beyond excellent. I use to visit other sites for gear but I do not now. Rescue Essentials is my one stop on-line store! I highly recommend Rescue Essentials to anyone !!!!! AAAA+++++

I've known about this product for a few years now as I've been working in a kitchen for about 9 years and have over time gotten little burns here and there and have had to use alot of the little burn creams that come in the little 1''x2'' packets and they have always been great, but just 2 or 3 weeks ago I was at work closing and was putting away product from the "therm" think a grease fryer like at mcdonalds but it has water not oil in it, and I thought it was empty as I saw no water but the person who turned it off forget to turn off the pump so I couldnt see the water flowing out the bottom, and I had to reach deep down into the corner and just happened to stick my foot a few inches too far forward and under the drain pipe and it poured 220' or boiling water all over my shoe which of course completely drenched and soaked into my shoe and sock. Needless to say I spun around in a circle a few times hoping on 1 leg trying to rip my shoe and sock off and ended up on the ground holding my foot as it turned bright red. I hoped to the office, and begged them to look for one of these in their first aid box, which I first found out of this product from seeing them in restaurant first aid boxes that are mounted on the wall in every kitchen and I thank god there was one in there. I ripped that sucker opened and it looks kind of like a piece of heavier duty gauze but that is drenched in the gel, and I placed on my foot, and instantly I felt this surge of coolness and it was amazing. It still hurt, but my god did it ever feel amazing. I also poured the rest of the gel, there was alot in the package onto my foot and the dressing and then after 5 minutes we taped up my foot and onto home I went. My foot blistered up pretty badly but this really was a godsend. Over the course of the night the pain would come and go, as if the nerves were fried from the boiling water, but if not for this dressing I wouldve ended up going to the hospital. Sorry for the long review, but I will always have these in my first aid and trauma kits!

WaterJel Burn Dressing - Every First Kit and Home Should Have Some

Water-Jel is an excellent product for burns and various sizes of these dressings are used in military kits (with different packaging) and in many EMT kits. We keep them in our Boy Scout First Aid packs to provide immediate burn relief when our Scouts forget the fundamentals of their Firem'n Chit! After a burn, quickly apply a Water-Jel to the burn area, using the size dressing that best covers the area - too big and you will may create a mess as it drips, and too small and you won't cover the burn. If possible, cover the dressing with a loosely applied non-absorbent dressing to avoid any messes and retain as much of the cooling agent as possible. Leave the dressing on to prevent contamination if the burn is sufficient to require further care. Once applied, the product will immediately start taking out the heat from the burn and help stop further damage. The cooling effect will help alleviate some of the pain. Note: in case you were wondering, this product does not contain a pain-killer like Lidocaine. The product has no active ingredients and is designed to allow the fluid to be easily washed from the wound.