Call for First Responder pricing!
The Leatherman® RAPTOR™ features the necessary tools for uniformed professionals to safely and quickly go to work in an emergency situation. Developed with the input of special operations medics, EMT's, and fire professionals, the Raptor has just the right balance of multipurpose features for medical-specific ops without an overkill of tools to complicate sometimes life-threatening situations. When it's a question of survival, the Raptor answers loud and clear.

**Black sheath is included. Black, belt compatible, injection-molded polymer Holster for Raptor™.**
Dimensions: 1.9" L (shears)
Dimensions: 5" L (closed)
Weight: 5.8 oz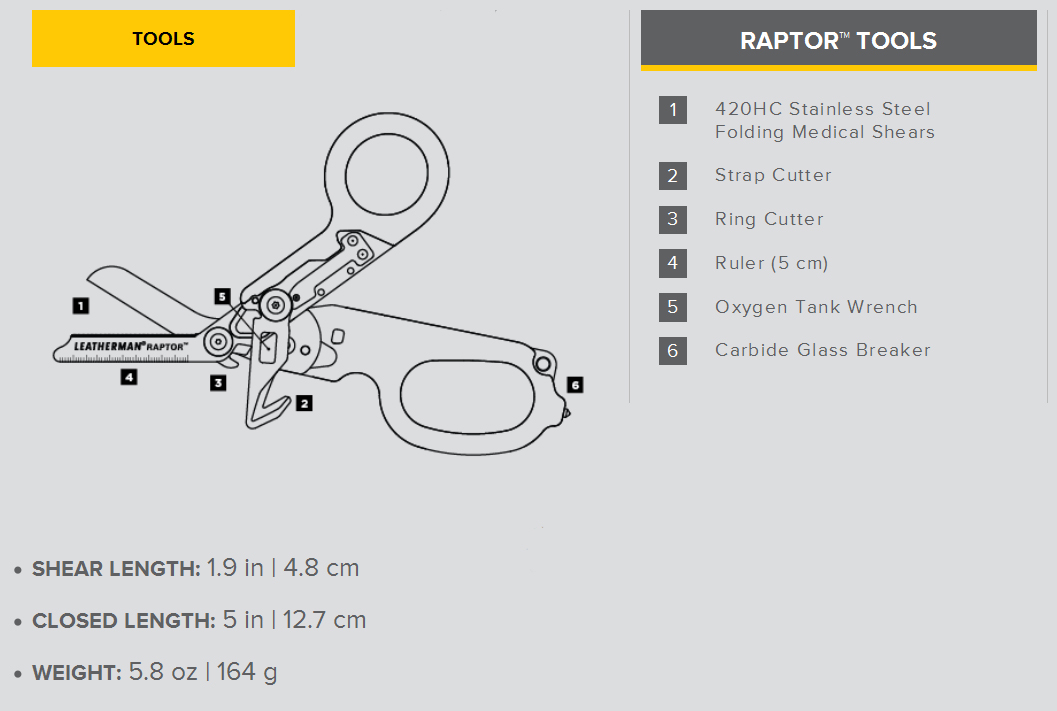 420HC Stainless Steel
An improved, high-carbon (HC) form of 420 stainless steel that works well with high production tooling. 420HC's strength is optimized in Leatherman multi-tools by heat treatment.
Glass-Filled Nylon
A thermoplastic material where strength is improved by adding chopped, glass fibers. This allows for excellent durability without adding significant weight. In Leatherman knives, the glass-filled nylon handles are so strong that an inner steel frame is not required, thereby reducing weight for a lighter every day carry. Leatherman uses a 60% glass mix.
Carbide
One of the hardest materials in the world outside of diamond, tungsten carbide is used as a tool to effectively and safely break auto glass and is available on Leatherman first responder tool.
it works better then expected.

The Leatherman Raptor is extremely well made and exceeds my expectations.

Amazing feeling and functioning

This product is amazing. Talk about a very nice pair of shears that are durable and very trustable. Ive used these in traumas, trips, vacations and everything in-between. These cut through boots like butter and have everything you'll need for a pair of shears to cut down on crappy tools that are just excess in your pockets. My whole ER team loves them and is often asking me to use mine.

Amazing and worth the $$$

I got tired of dull trauma shears and decided to spring for the best since I use them daily in my rescue job. Quality is amazing and thanks to Rescue-Essentials I found them with the Orange handle when I could not at other online distributors. Don't hesitate to buy them; you won't regret this purchase!

At last, a quality pair of shears!!

Fantastic quality, tough enough for anything you can throw at them!! Makes short work of even top quality biking leathers, flux through almost anything. They're not the cheapest, but are well worth the investment. Only improvement would be if they came with a lanyard to ensure you don't misplace them.

It's a Leatherman....need I say more.

I still have my first weatherman when it arrived in the marketplace in the 1980s. these folks know how to make a tool that lasts. I have only returned one tool, for repair, over the years. It arrived in good as new shape. If you want a pair of shears that will keep up with a full shift of EMS work, these are the ones.

Hands down the best shear avaiable

So i needed some trauma sheers for work. I am a Security Officer / EMT. I hesitated because of the price but after my first official use of the product I would not hesitate to purchase them again. Very strong, very durable and look sweet. Company response t orders is outstanding.

FINALLY got my hands on a set of these after reading all of the reviews. Tested the cutter on an old web belt. Zipped right through it even though it was double thick. The shears have zipped through everything I threw at them. These things really built like a tank. I honestly feel like these will be the last trauma shears I ever buy.

Raptor is a great design that suitable for most first responder of different spectrums. I would suggest the uses to use blue (non-permanent) threadlocker glue on the holster screw to prevent unintentional detach. Also putting on an elastic sling is a good idea in case the shear falling out from the holster.