The newly upgraded Ankle Medical Holster is a medical kit carrier designed to be worn around the user's ankle. Lightweight and comfortable, it can be worn as part of your everyday carry whether you are civilian, law enforcement, or military. Upgrades include rounded corners, a 2 x 3 PALS panel, red pull tab, padding for comfort, and an improved fit. Designed to fit a CAT or SOF Tourniquet, 4" Israeli Emergency Bandage, and 2 pairs of Gloves. It can also accommodate a SWAT-T, needle decompression kit or other items. A stocked version is available as well.
Features
Elastic storage bands and pouches

Customizable to user preferences

Lightweight and comfortable

Main Pouch has a red tab for instant identification

Three pockets plus a 2 x 3 PALS ladder
Dimensions (open): 5.25" H x 19" W (open)
Dimensions: 9" - 16" (intended fit circumference)
Weight: 4 oz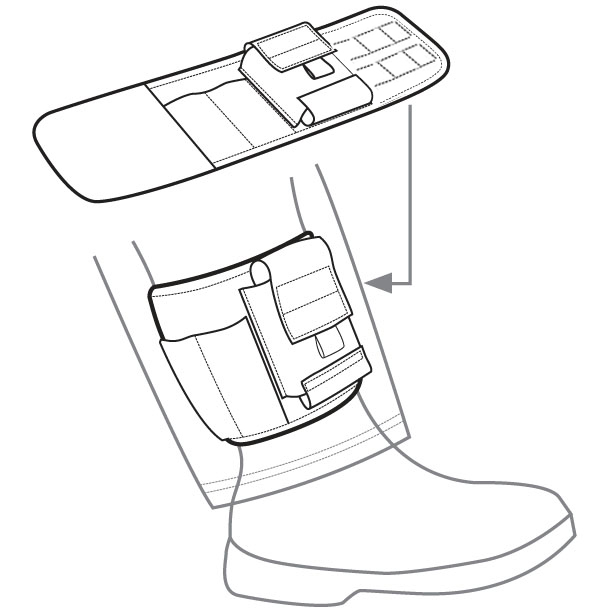 Save
Save
GREAT QUALITY. FITS WHAT I NEED WHILE I'M ON DUTY

The holster itself is very tall. It's necessary to stuff in the bandages and SWATT, but it is surprising when you first get it. Something like this could definitely benefit for some lighter material, as the thickness of this material does become an issue when trying to keep everything compact in a pant leg. I am carrying the default items - a Rescue Essentials compression bandage, a quick lot rolled gauze, and a SWATT tourniquet. I also have a beacon chest seal as well. The beacon, being prefolded, is not as easy to fold to pack in as the Hyfin I suspect is. However, it does fit. I also have a 3" compact seat of shears on the MOLLE section. Biggest complaints are driven from the thickness of the nylon combined with some sharper points in the stitching which irritate the leg. You can wear this without a sock between your leg and the holster, but it's not as comfortable. The MOLLE section of the holster also seems a little uncessary. You can strap something to that panel, but I feel that it would have been better served as a thin pouch to spread out the items all around the leg. One more recommendation would be to offer a thinner compression bandage so that panel is less thick. The bulkiest part of the ankle holster is the pouch with the chest seal and bandage. Last recommendation would be to taper the holster - to make it tight on the leg (and not slide down to pinch between the shoe tongue and ankle), the velcro section needs to have a slight angle on it. If I make it fit the contour of the leg, the hook velcro will be at an angle with the loop velcro, causing some overlap. This overlap is uncomfortable because the exposed hook velcro can touch the leg (or tear up a sock). Overall, however, I have been wearing this thing daily for 2 weeks and have largely forgotten it's presense. My pockets are full and I am happy at the idea of always having a SWATT around without using pocket space or carrying a separate bag. I love this product and would recommend it, but I do hope there's a "gen 2" down the line.

RESCUE ESSENTIALS ANKLE MEDICAL HOLSTER

I would buy it again. Three pockets. Two are smaller than I like, but there is not a lot of real estate on an ankle.

While the holster is good overall, it has some issues. It fits well, and the velcro is very secure. It is comfortable to wear all day. The issues I have are the pouch, and the stretch sleeves. The sleeves are a bit small. It was a major fight to get a CAT tourniquet into one. The pouch is also a bit small. I was able to fit chest seals, and a compressed gauze, bit I don't think there is sufficient room for a 4 inch israeli bandage and clotting gauze to be added. A little more room in the stretch sleeves and the pouch would be helpful.

Great item.

Great quality but too big

Excellent quality and design. Unfortunately it doesn't fit. After securing to my ankle I had about three inches of the holster left over. I will have to return it. If you have tree trunk ankles this excellent piece of equipment will work for you great!

I've had this for a couple years now. I wear it on duty and off. I have a tourniquet, z fold combat gauze, and chest seals in it.

I have been looking for another option to carry both my tourniquet and narcan on my person at work. We were issued a belt holster for the tourniquet, but mine kept coming out while getting in and out of vehicles. I had been carrying my narcan wrapped up in a sock with the top part of another sock I cut the toe section off of up around the top of my boot. I have now finally found a product which both stays in place, I can pull my pant leg up and down with no issues. I can also carry both my tourniquet and narcan securely. This product is made well and will not break the bank in buying it. Thank you making this! I highly recommend it!!