NSN# 6515-01-587-9943
Not available for international Shipment
The new SOFTT-W Gen 4 Tactical Tourniquet 1.5" has incorporated some key improvements from it's predecessor. It is 15% lighter, offers a new buckle and retention clip that are faster and easier to use (especially for one-handed attachment), and the windlass is now longer to provide more torque on application.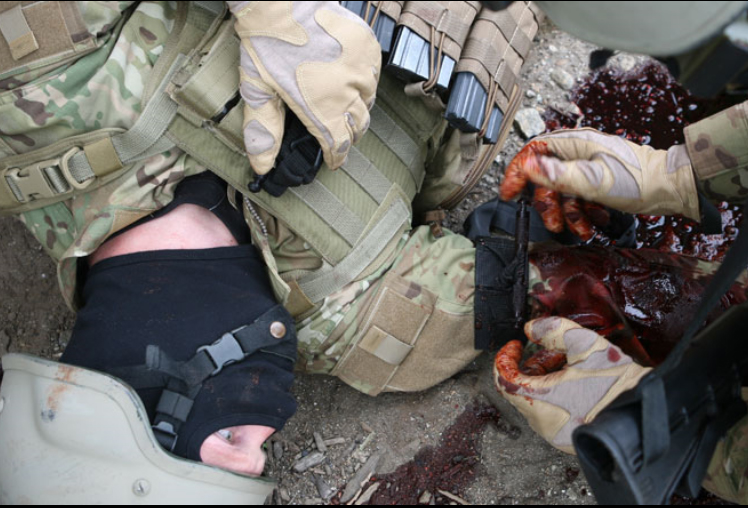 SOF® Tactical tourniquets are a longtime favorite of US Special Forces, Tactical operators and First Responders. Their reliability and effectiveness is unsurpassed by any other similar device, and they have accounted for untold numbers of "saves".

The SOF Tactical Tourniquet-Wide (SOFTT-W) is the result of an exhaustive 24-month research initiative compiling end-user research and laboratory studies to develop a more effective, easier-to-use tourniquet for all environments. High-strength, light-weight alloy components are used in critical areas of function ensuring reliability in the most challenging of circumstances and on the largest of limbs. This was all accomplished while reducing the weight by around 15%.
The high-strength hook and buckle interface was designed for security, strength, and ease of application. The clip design allows for rapid routing of the tourniquet strap (if a limb is trapped for example) while eliminating need for re-threading the webbing through a buckle. By eliminating the requirement to re-route the webbing the tourniquet is easier to use when operating under stress. This reduces application time, which can result in reduced levels of blood loss and better quality patient care.
The SOFTT-W also has a true 1 ½" tourniquet strap providing a wider compression pattern than most standard tourniquets, or tourniquets with a 1" constricting band moving through a 1 ½" sleeve. This broader compression pattern allows for increased patient comfort and additional arterial compression.
The tourniquet handle is machined from a single piece of high strength aluminum bar stock. The strength of the handle virtually eliminates the risk of product failure. It is then anodized to minimize the products signature in a tactical environment. Each tourniquet ships with two UV resistant black rubber bands for mounting to your individual equipment.
Key Gen 4 Upgraded Features
Retention Clip - The Retention Clip helps to secure the windlass by locking it in place once the tourniquet has been applied. This is especially helpful for one-handed applications, resulting in faster application times and doubling the security of the device in combination with the tri-ring during patient movements.
5.5" Windlass - The increase in length eases the process of securing the windlass into the clip and tri-ring, increasing the effectiveness of the dual retention system. It still maintains its distinct conical ends while being machined from a single piece of aircraft-grade aluminum bar stock and anodized to minimize the product's signature in a tactical environment.
Quick-Compression Buckle - The Quick-Compression Buckle, added to the tourniquet last year, allows for smoother buckle manipulation due to its rounded edges. This also allows for easier one-handed application and overall faster application time.
Reinforced Material - TacMed found a way to make the strongest tourniquet even stronger.
Dimensions: 5" H x 2" W x 1.75" D
Weight: 4 oz
Save
Save
Sofft-W Generation 4 Tourniquet

Everything I expected from reading its description. Very simple and easy to use with well written and illustrated instructions.

Tourniquet was exactly as advertised. I have not used it since I am a civilian and have no come across the need and hopefully never will. But I got it just in case. The product is great except for the plastic u looking part that holds the wand (not sure the name) broke in two pieces. I am not worried about it since the triangle part looks to have the same purpose. It breaking isn't completely the products fault since I was playing with the end of it and my pocket was putting a lot of pressure on it.

Well built and quality is above that of a cat tq which is still quite good. Only complaint is the use of plastic for the windless retention. Steel windlass is a massive plus

It's like they took all the great things from other TQ's and put them into one perfect tourniquet

I know several special units (police and military) that prefers this kind of TQ over the others.

Another great product. If you already have a traditional cap I would not replace it unless it's old. I consider both a cat and the soft T wide to be quality high-end products. Always be aware that these do have a shelf life and do need to be replaced at intervals determined by the manufacturer.

Well designed and easy to apply. Constructed of metal, not plastic, for durability.

Best Tourniquet on the market for those in harms way

This is the best Tourniquet for those in harms way and is easy to use

Well designed and easy to apply. I recommend this unit to all my providers and students.