The Beacon™ Chest Seal is an advanced occlusive dressing designed to treat open chest wounds. Penetrating injuries to the chest that result in open chest wounds may lead to tension pneumothorax, the second leading cause of preventable death on the battlefield. Beacon™ Chest Seals are specifically designed with a medical grade hydrogel adhesive strong enough to adhere to skin that is exposed to blood, sweat, hair, sand or water.
Quarter folded to minimize size restraints
The Beacon Chest seal is configured ideally to fit in kits, even in small personal trauma kits. The entire package is only 6" x 4", making it by far the most "packable" chest seal we know of. Below, the package is shown with a standard business card on top: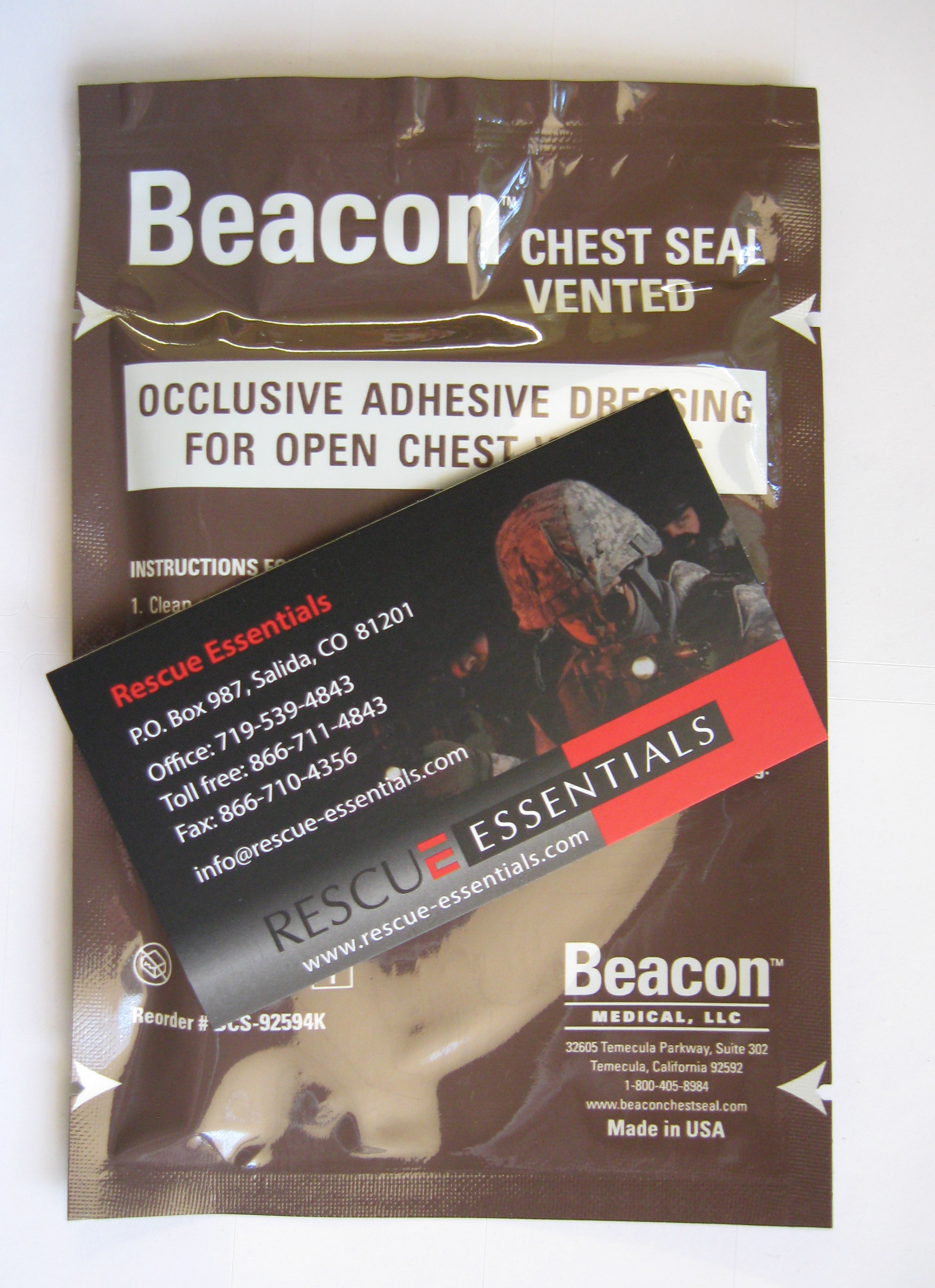 The Beacon™ Chest Seal is available in both a vented and non-vented version. The vented version features a patent pending design with 4 vents that allow for one-way airflow out of the chest cavity during exhalation while preventing airflow into the chest cavity during inhalation. The 4 vent design maximizes venting and ensures proper chest seal function in the event of an obstruction.
The Beacon™ Chest Seal Meets CoTCCC Preferred Features for Chest Seals.
FDA 510(k) Exempt

Used by Military, Police, Fire, EMS and First Responders

Large 6 Inch Round Shape for Optimal Coverage Area

Large Release Tab for Easy Application and Removal

Effective in Extreme Cold and Heat

Transparent Backing for Easy Placement Over the Wound

Strong Medical Grade Hydrogel Adhesive

Lightweight Puncture-Resistant Packaging

Conforms and Adheres Easily to All Body Surfaces

Function and Integrity of Chest Seal Preserved when Folded or Rolled

Vacuum Sealed Pouch with 4 Tear Notches

Latex Free
Dimensions: 6" H x 4" W x 1/8" D (packaged)
Dimensions: 6.0" H x 6.0" W x 0.1" D (chest seal)
Weight: 0.9 oz
Smallest functional option

When needed a vented chest seal is a life saver. It is an important IFAK item. As such the ability to fit in a small kit is a determining factor of it being at hand. This seems small enough to fit in the most compact kit. I like the twin packs better in my larger kits but this slips in nicely in the small ones.

I love these chest seals. They fit perfectly into the Rescue Essentials plain clothes carry ifak pouch. I have 2 in mine. They work very well and are highly underrated.

The beacon chest seals are a wonderful compact chest seal that easily fits into your IFAK pouch, I highly recommend getting them