Originally designed for ski patrol and mountain rescue use, this one size fits all radio harness will instantly adjust to hold any radio snugly to your chest without the use of multiple velcro straps or buckles found on lesser quality harnesses. The vertical orientation of the radio improves reception, extends antenna life, and reduces the chance of chest injury during a fall. Our unique suspension system virtually guarantees that your harness will not bounce or swing, even while pounding moguls or climbing caged ladders. The harness features all CORDURA® construction, a large bellows cargo pocket, pen pouch, and twin elastic antenna keepers. The Adjusta-Pro is a must for SAR and MCI applications. Similar to Adjusta-Pro Diva Women's Radio Chest Harness Chest Harness.
Contents not included.
Storage Pocket: 7.5" H x 5" W x 2" D
Dimensions:5.5" H x 9.5" W x 3" D
Belt size: extends up to 45"
Weight: 8.5 oz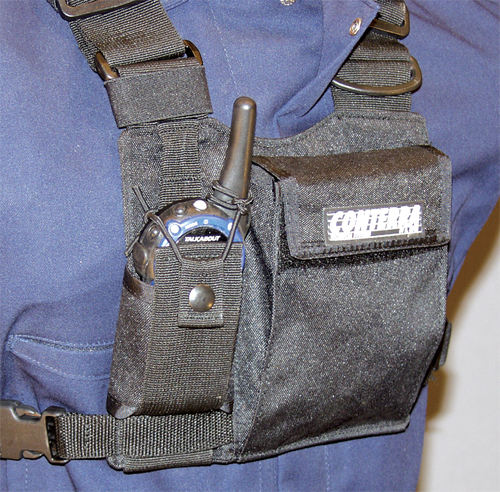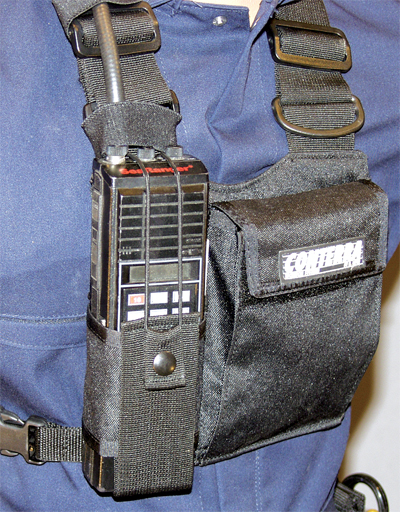 Click here to see Conterra's NEW Adjusta-Pro II Radio Harness
I work for an excursion railroad, needed something to hold my radio, switch keys, pen light, note pad, and pen. This was a perfect solution. Couldn't be happier so far, we'll see how it holds up.

Great product, definitely rugged.

I work on an airport ramp and wanted something that would hold a radio, as well as other items I need throughout the day. I like the velcro pocket for larger items and the pen holder. The chest fit works well for me as well (B-cup size woman).

I work for a propane company... needed a carrier for the remote shutdown and tools... had it a couple weeks. So far it's great... great fit and perfect for work. Only downfall is the 2 holders above the radio holder are kinda cheap. Don't expect it to hold my multi tool very long.

When I wear it for the first time I felt it was too small to carry more stuff than a radio

Best radio chest harness made

I have been a Professional Ski Patroller for 24 years. A friend gave me this model Conterra pack about 15 years ago and now it's time to replace it. Over the years I have used many different models, sizes and shapes of radios and this pack fits them all. It is the perfect size. It holds all the paperwork I need as well as a pair of crash shears. I would recommend this chest harness to anyone.