Call for First Responder pricing!
The Leatherman® RAPTOR™ features the necessary tools for uniformed professionals to safely and quickly go to work in an emergency situation. Developed with the input of special operations medics, EMT's, and fire professionals, the Raptor has just the right balance of multipurpose features for medical-specific ops without an overkill of tools to complicate sometimes life-threatening situations. When it's a question of survival, the Raptor answers loud and clear.

**Black sheath is included. Black, belt compatible, injection-molded polymer Holster for Raptor™.**
Dimensions: 1.9" L (shears)
Dimensions: 5" L (closed)
Weight: 5.8 oz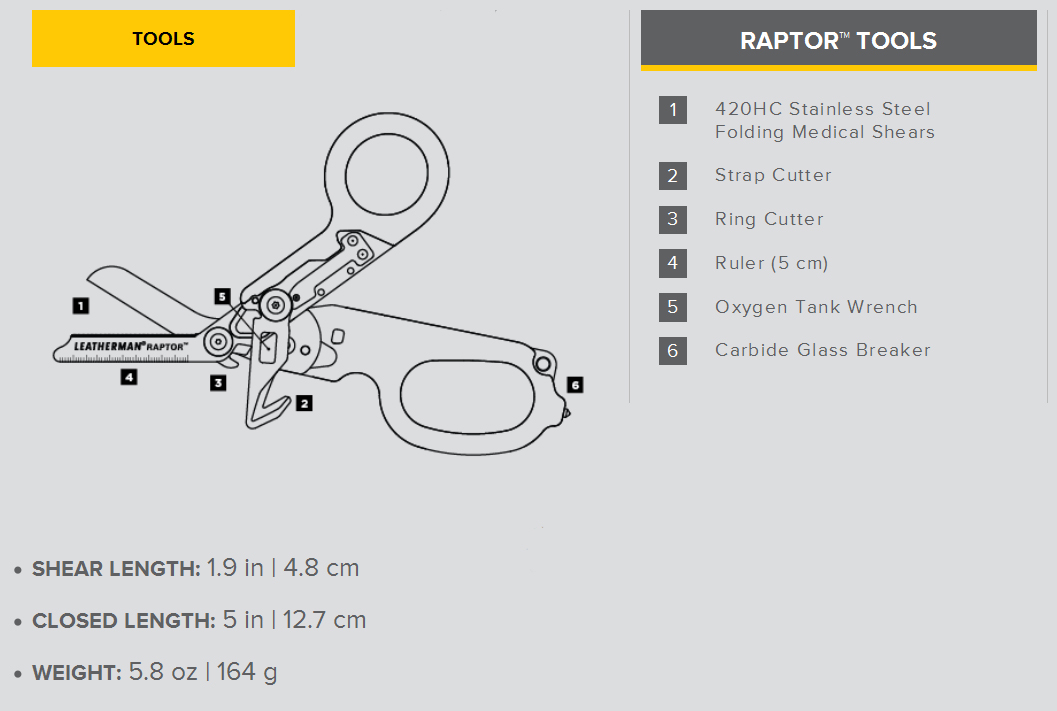 420HC Stainless Steel
An improved, high-carbon (HC) form of 420 stainless steel that works well with high production tooling. 420HC's strength is optimized in Leatherman multi-tools by heat treatment.
Glass-Filled Nylon
A thermoplastic material where strength is improved by adding chopped, glass fibers. This allows for excellent durability without adding significant weight. In Leatherman knives, the glass-filled nylon handles are so strong that an inner steel frame is not required, thereby reducing weight for a lighter every day carry. Leatherman uses a 60% glass mix.
Carbide
One of the hardest materials in the world outside of diamond, tungsten carbide is used as a tool to effectively and safely break auto glass and is available on Leatherman first responder tool.
I expect the very best products from Leatherman and was not disappointed. An implemenot that could be used to help extract and save the life or limb of another human being must be ultra dependable and of a high quality in terms of build and utility. Get this one.for your IFAK or your glovebox in case its needed!

Very well built, and work excellent. I only wish they offered more sheath/Belt mount options. I have the Molle sheath, and I haven't used it yet, as it's kind of bulky. The supplied pocket clip does a pretty good job, but more belt mount options without having to look for aftermarket stuff would be nice. With that said, overall I really like them and I think they are well worth the money. You get what you pay for...

I love these, compact, deploy easily. The are a solidly designed piece of invaluable hardware!

Awesome Tool, Terrible Sheath

The tool is wonderful. It will cut things that other shears won't touch. It is the tool of choice for rescue, Nurses and ER Doctors where I live. However, the sheath is abysmal. It is nearly impossible to extract the device when it is opened and very snug when it is closed. It will not fit on a 2 1/4 inch duty belt. The tool holder portion is held on to the belt part with one screw. That screw backed out on my first night carrying it and I almost lost the Raptor. I had to buy an after market leather sheath.

Life Time and Multi-purpose Trauma Scissors

The Leatherman Raptor Scissors are heavy duty enough to handle cutting through any material you might run into. The extra features are just a bonus to have literally in-hand and the compactness and ease of deployment makes this a pair of trauma scissors that will last the test of time. Well worth the initial expense.

i received the item in no time, and in great condition with no defects. Works perfect.

Solid Build, Excellent Design

I'm not EMT just a CERT team member and I wanted to take advantage of the Raptor/Tourniquet special. After opening the Raptor shears I knew they were a great example of Leatherman quality and design but when I removed my old medical shears I really understood how much better these were. The kydex sheath allows many attachment options and the folding design keeps things from being bulky.

Great addition to my TCCC kit. Tool is heavy, and heavy duty. Hope I never need it, but if I do I'm confident in its utility.