Call for First Responder pricing!
The Leatherman® RAPTOR™ features the necessary tools for uniformed professionals to safely and quickly go to work in an emergency situation. Developed with the input of special operations medics, EMT's, and fire professionals, the Raptor has just the right balance of multipurpose features for medical-specific ops without an overkill of tools to complicate sometimes life-threatening situations. When it's a question of survival, the Raptor answers loud and clear.

**Black sheath is included. Black, belt compatible, injection-molded polymer Holster for Raptor™.**
Dimensions: 1.9" L (shears)
Dimensions: 5" L (closed)
Weight: 5.8 oz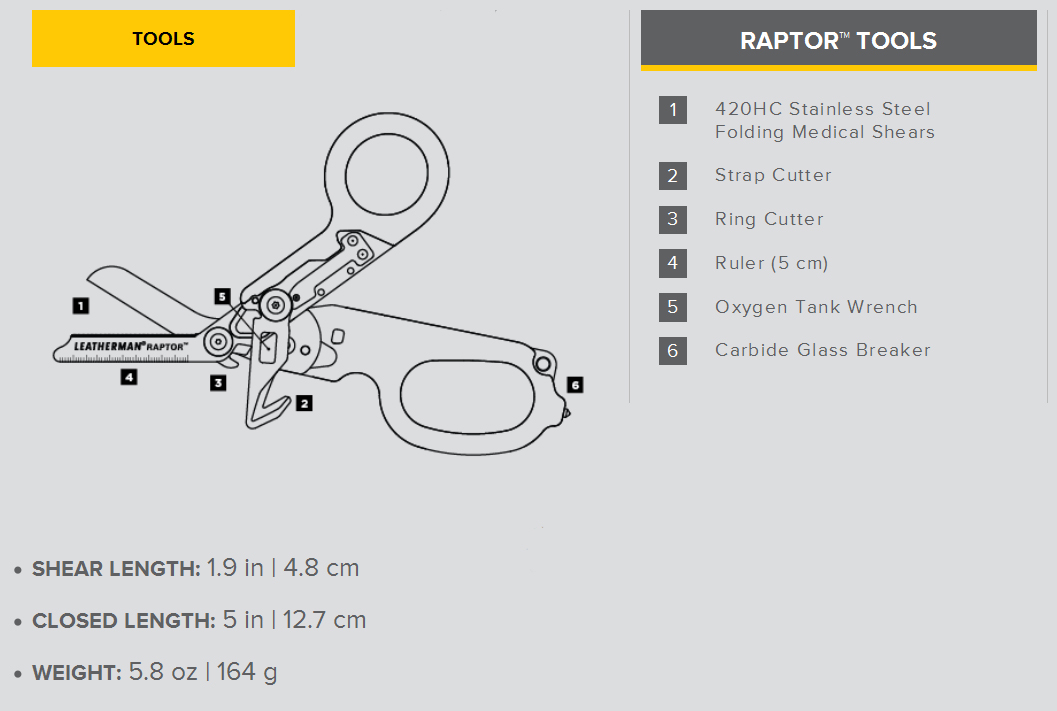 420HC Stainless Steel
An improved, high-carbon (HC) form of 420 stainless steel that works well with high production tooling. 420HC's strength is optimized in Leatherman multi-tools by heat treatment.
Glass-Filled Nylon
A thermoplastic material where strength is improved by adding chopped, glass fibers. This allows for excellent durability without adding significant weight. In Leatherman knives, the glass-filled nylon handles are so strong that an inner steel frame is not required, thereby reducing weight for a lighter every day carry. Leatherman uses a 60% glass mix.
Carbide
One of the hardest materials in the world outside of diamond, tungsten carbide is used as a tool to effectively and safely break auto glass and is available on Leatherman first responder tool.
Raptor is a great design that suitable for most first responder of different spectrums. I would suggest the uses to use blue (non-permanent) threadlocker glue on the holster screw to prevent unintentional detach. Also putting on an elastic sling is a good idea in case the shear falling out from the holster.

I'm glad to see Leatherman bringing quality *new* products to market. Although their tools have always been of high quality, some of their recent attempts felt a little light in design, didn't address a need or was plain over priced. The Raptor is a high quality, simple tool with performance that just leaves one wondering why it took so long. Heck, any *man* (you ladies too) would be proud to cut a piece of paper in public with these -- no reason to bring out the 12in blade. Well worth the $70 asking price.