**This item cannot ship internationally.**
The SAVIOR7™ PRO Combat Trauma System is a low profile, modular trauma pack designed for tactical medics, USAR, or any Responder working in confined spaces. A great foundation for tactical medic packs, bleeding control response kits, USAR packs or industrial medical response. The low profile design aids in movement through confined spaces and won't slow you down when you need to move quickly, critical in tactical situations. The five internal rip away modules can be accessed inside the pack or easily removed for easier access or dispersal to other providers. Loop material allows each module to be easily labeled with name tapes for identification (*View Labels - labels are not included.)
Depending on mission requirements, the SAVIOR7™ PRO can be configured in a variety of ways to support your team. The full length zippered main interior padded pocket is completely lined with loop tape and can accommodate multiple configurations of G7 MINIFILL and H7 VIEWPACK removable modules, or a variety of commercially available system panels. The quick-grab G7 MINIFILL and H7 VIEWPACK labeled mods support critical intervention supplies that can be accessed or deployed for trauma treatments. The front and back exterior zippered pockets accommodate litters or up to 12" M4L ballistic armor. A bottom zippered pocket offers additional storage for triage supplies, QuikLitter™ Rescue Litters, or IV solutions. The pack exterior is fully paneled with laser cut MOLLE for additional equipment. Low profile carry-drag handles are located on the top and sides for versatile recovery. Equipped with concealable waist and backpack straps, the SAVIOR7™ PRO can be readily worn as a solid rucksack or all straps can be stowed cleanly and the pack can be attached to body armor or a load bearing vest using the included 4 point webbing straps. If attached to a vest the SAVIOR7™can quickly be removed for treatment by triggering the shoulder release buckles. A large front name tape area offers space for easy identification or GLINT tape. Constructed from 1200 denier coated TPE water and stain resistant material, with all YKK oversized zippers, the SAVIOR7™ is built tough and backed by a Lifetime Warranty. **Looking to create a Tactical Emergency Medical Kit. See our Savior 7 TEMS Components Module.
*View name tape labels (sold separately)

**Need a complete custom medical kit based on the Savior 7 pack, give our kitting experts a call at 1-800-711-4843.
Features
Oversized YKK zippers

Provides 12" (tall) x 10" (wide) NIJ Level IIIA armor protection

Backpack system with contoured yoke harness system easily distributes weight for maximum comfort

Black matte finish metal hardware

Fully concealable waist and backpack straps when not in use

Double stitching on all stress points

4 point strap system attaches to vests, quick release buckles

3" x 12" front name tape area, MERET tape included

Fully paneled with laser cut MOLLE to support a TS2 Ready™ module or any MOLLE compatible gear

Low profile carry-drag handles on top / sides

Adjustable sternum and waist belt

Large EZ-Pull pullers allow easy access

Main pocket opens complete

Loop tape lined main pocket attaches a variety of modules

Incredibly durable 1200 Denier coated TPE, water and stain resistant

Front/ back zippered pockets for litters/ armor protection

Bottom pocket for litters/ IV solutions

Drain hole bottom

M4L ballistic resistance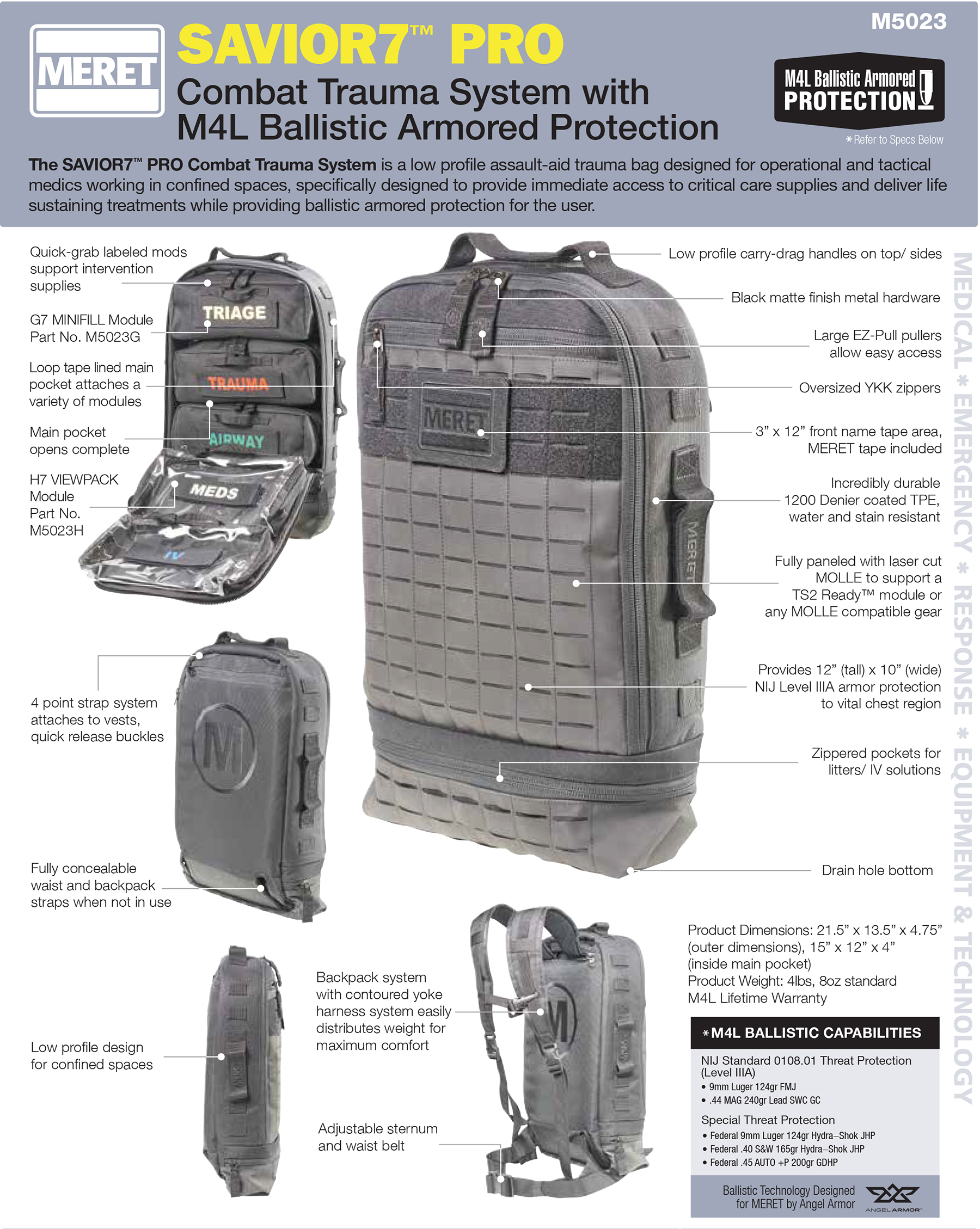 Dimensions: 21.5" H x 13.5" W x 4.75" D (outer dimensions)
Weight: 4 lbs, 8 oz (5 lbs 8 oz with ballistic armor)