This is a favored configuration for IFAKs carried by several Government agencies' personnel, because of its size, versatility and rugged construction. The internal organization is outstanding, and external webbing allows numerous accessory attachment options, including compatibility with our Tourniquet Holder.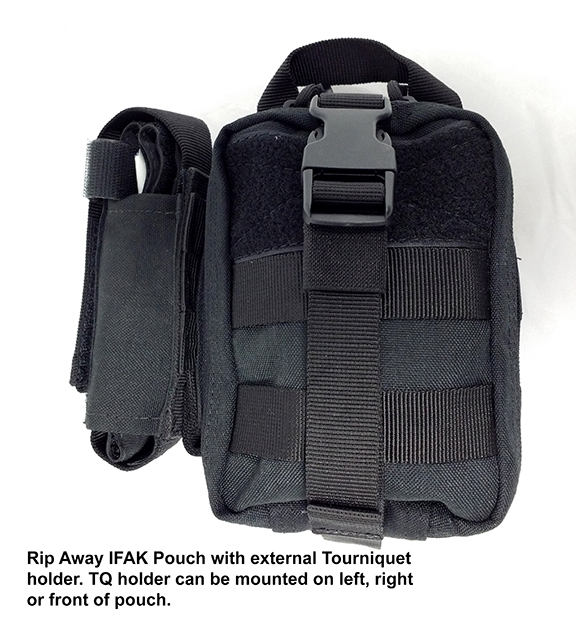 This pouch has carrying capacity that belies its small size. Various possible configurations include treatments for traumatic bleeding, airway issues, pneumothorax and more. Full-area hook and loop back panel allows instant detachment from belt of pack for "throw and go" applications.

Features
Rip away hook back with loop panel secure with quick release buckle

Clam-shell design

Grab Handle

Hook and loop ID Panel

Webbing for MOLLE attachments and accessories

Internal quick open pull-tongue

6" MOD Straps included

Imported
Available loaded out in the EMT Rip-Away Lite Operator Kit and SO Response Kit.
Dimensions: 6.5" H x 4" W x 2" D
Weight: 8 oz
RE IFAK pouch to mate with headrest mount

This pouch holds sufficient items to be a great "first in" kit. Attached to back of headrest with another RE innovation, keeps this IFAK ready for use. RE Molle line up well!

Rescue Essentials compact IFAK Rip-away pouch

Will not hold the 6 inch Israeli bandage without folding the end of the package up. Needs to be about 1/2 inch longer.

I like almost everything about this bag except for the molle straps with snaps which require skill in tight places. Fortunately they are removable and I replaced them with some Tactical Tailor ones I had.

These are by far my favorite pouches. I have one in my POV and another in my cruiser.

This is a good size pouch for a plate carrier or to attach to the outside of a Go-bag. Sturdy construction and heavy duty material.

This is a great IFAK pouch. It's well-made and durable. The rip-away design is excellent and it has very useful internal storage compartments and elastic straps to hold scissors, needle decompression, tourniquet, emergency bandages, etc. It also has external loops to attach an additional tourniquet holder or to hold scissors externally on either side.